Blueberry Hill Trail – Gibbsboro, NJ
What could better than hiking in your own backyard, well sort of!  
Blueberry Hill is a hidden hiking gem for the south jersey area, and it's close to home!  Come join us for some nature walking, hill climbing, stair stepping and fresh air!  Our hiking trail of this summer season for all Koko members to just enjoy some lovely springtime nature while getting in a workout!  On Sunday, May 3rd meet at the cul-de-sac off of Rt 561 at Berlin Rd & Eastwick Dr (right off Rt 561 – Haddonfield- Berlin Rd). 
Moderate to Intermediate levels. 
Difficulty: 3 of 10.
Total score: 8 of 10.
Terrain: Hills, wetlands, woodlands.
Standouts: Blueberry Hill with a view of Philadelphia, Gibbsboro radar station, trees, small concrete ruins.
Markings: Mile markers every 0.1 miles, signs pointing up Blueberry Hill, and many, many unmarked trails.
Optional: Bring water.
Any questions: Just ask Karen or Terry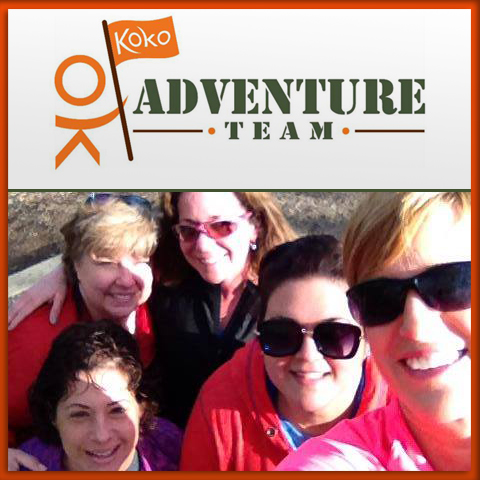 Additional Notes: This is a great little hike.  I've always parked at the cul-de-sac off of Rt 561 at Berlin Rd & Eastwick Dr (right off Rt 561 – Haddonfield- Berlin Rd).  From there, walk into the woods on the duel use bike/hiking trail, part of the Gibbsboro Greenways system, a growing network of biking/hiking/walking trail in Gibbsboro.  This trail is paved in parts, gravel in parts, and dirt-ish in parts.  You'll walk along the trail, admiring the views of the wetlands and at the base of the hill.  Follow this bike trail as it curves around the base of Blueberry Hill.
A great view of the radar defense system that was once part of the air defenses for Philadelphia. The radar station was built in 1957 as part of the Nike Missile Defense system, although no missiles were ever kept here.  It's well worth taking a look at while you're there.
---
Overall recommendation: I LOVE this hike.  It has a view from elevation (rare in South Jersey), some wetlands and pine trees to look at, concrete ruins to stumble across, and has a million unmarked trails, but in a contained area.  You can take a short hike, or stretch it into something longer by walking other trails in the immediate area or connecting with other parts of the Gibbsboro Greenway system.